Brain Training for Dogs is a new and exciting training program that is different from other ones out there. In this unbiased Brain Training for Dogs review, we help you decide if this program is worth your money for both you and your dog.
One thing for sure is that this program is an innovative dog training system that aims to engage your furry friend mentally, providing fun games to play and commands to learn so that you can bond with your dog, as well as tackle troublesome behaviors.
This training program is designed by Adrienne Farricelli, a certified and professional dog trainer with over 10 years of experience.
She introduces fresh and inspiring methods and techniques that can eliminate problem behaviors, encourage obedience and boost the intelligence of your dog.
As a member, you will gain access to an endless amount of information that you can use to learn more about dog behavior, as well as different modules you can work through with your furry friend.
How Does It Work?
Brain Training for Dogs is designed to be simple, fun and effective.
When you become a member, you can read through all of the articles, as well as enjoy the different modules for training your furry friend.
Overall, there are 21 exciting games to play with your dog, which will mentally challenge them, as well as work on tackling the root cause of any negative behavior.
The training is easy to follow and there are clear instructions that are given, alongside pictures for a better understanding.
This makes everything straightforward and you can check if you are doing it right.
There are also video demonstrations to show you everything you need to do.
This means that it does not matter how much training experience you have, you can enjoy Brain Training for Dogs.
Your dog does not have to be trained either.
All you have to do is follow the step-by-step guides for success with your furry friend.
Brain Training for Dogs is more than just fun games; it is also able to combat troublesome behaviors that may be causing stress to your life.
You may even be thinking about giving up your dog because you do not how to handle them anymore.
This training program claims that it can help you target many bad behaviors and stop them from happening.
For example, excessive chewing on items around the home and constant barking can be caused by boredom, which will be prevented with this training program.
There is also information to help prevent aggression towards other dogs, as well as overexcited behaviors, such as jumping and urinating.
What's more, you can also receive help with house training, pulling on the leash and your dog simply not listening to you.
All of this training program can be applied to both adult dogs and puppies.
The training program is split into different levels or modules.
Each one will contain three brain games to challenge your pup.
It starts with preschool and works through the different levels all the way up to Einstein.
Once you have successfully taught your dog the trick or command, there is an exam at the end that your furry friend should pass before they advance to the next level.
Some of the skills that your dog will learn include patience, impulse control, obedience, paying attention and even playing the piano.
Price
We all know that hiring a professional trainer can be expensive.
It can be hundreds for just a few hours!
However, Brain Training for Dogs gives you the information and tips you need to take control and save money on hiring a professional.
It cost $47 to gain instant access to a wealth of information from a certified and professional dog trainer.
On top of that, there is a 60-day money back guarantee on Brain Training for Dogs, which means you can get your money back if you do not feel that this training program is working for you and your furry friend.
With no risks associated with the program, this may be the answer if you are having trouble combating some of your dog's behavior.
The Advantages Of Brain Training For Dogs
So, what makes Brain Training for Dogs different from other training programs that are out there?
Well, this training program has a range of advantages over its competitors, such as using positive reinforcement, proving mental stimulation and solving the root problem of the troublesome behavior.
Let's have a look at more of the advantages in more detail so that you can know what to expect from Brain Training for Dogs when you sign up to be a member.
#1. Use Force-Free Techniques
Brain Training for Dogs focuses on teaching you how to use gentle techniques to deal with troublesome behavior and create obedience with your dog.
This means that you do not have to use special collars and leashes or use force or dominance techniques.
You learn how to be gentle with your furry friend and all techniques have been created using science and in-depth dog behavior research.
The techniques that you learn are all about using positive emotions and good energy; not using fear as a motivator, which can lower your dog's self-esteem and make them not trust you.
Fear of punishment will not create long-term results and instead, the Brain Training for Dogs techniques can change your dog's behavior and mindset forever.
#2. Build Your Confidence
The Brain Training for Dogs program is designed to improve your confidence, as well as your dogs.
The different modules of training that you can work through are designed to make you feel more in control of situations and strengthen the bond between you and your canine.
This means that when you are out in the real world, you will know what to do and how you can enjoy time with your canine.
Of course, energy and how you carry yourself is important when you are around your furry friend.
Dogs use energy as a communication tool, which means that they can react to your energy.
Often if you have nervous energy, they will too.
The same can be said about anger, stress, and sadness.
With this training program, you can feel more confident in giving your dog commands, which can combat the behavioral problems.
With calm and confident energy, your dog can rely on you and feel relaxed too.
#3. Start From The Beginning
Often, a lot of training programs will assume that your dog has some basic training before you begin.
But the great thing about Brain Training for Dogs is that you can start from the very beginning and work through the different modules at your own pace.
For example, the training program begins by teaching simple obedience training, such as sit and lie down.
This means that if you are new to dog training, you can get started with confidence and know that you will not be left behind in the program.
There are also different tips and modules to work through for adult dogs and puppies so training is suitable for all ages and abilities.
Brain Training for Dogs – Turn Your Dog into a Genius!
#4. Provide Mental Stimulation
Your dog's mental health is just as important as their physical health.
In fact, just as not getting enough exercise can lead to destructive and negative behaviors, so can not exercising your dog's brain.
A lot of bad behavior that we do not want in the home, such as chewing and barking, can result from boredom.
With the help of Brain Training for Dogs, you can provide mental stimulation for your pup with a variety of fun and interactive games.
These are going to alleviate boredom for your furry friend and make them happy and less hyperactive when it comes to going walks and interacting with other people and dogs.
#5. Huge Archive of Help
Training your dog by yourself without the help of a professional can be pretty daunting.
This is especially true when you feel like you do not know what you are doing.
In fact, this can be what stops people from getting started.
But with Brain Training for Dogs, you are provided with a wealth of information from the very start.
As soon as you become a member there is a huge archive of articles you can read through to help combat your dog's troublesome behavior by yourself.
With over 100 articles, you can look through the information you need and learn more about how you should work through problems with your furry friend.
For example, there are whole sections for puppy training, as well as crate training and socialization.
In addition, there is a troubleshooting segment, which is going to provide you with advice and help if your dog's behavior is particularly difficult to deal with.
Brain Training for Dogs makes sure that members are not alone and have all of the tools and information they need to start training their dog.
#6. Tackles The Root Cause Of The Behavior
A lot of dog training programs teach you how to handle your dog when they are displaying undesirable behavior, but they do not actually tackle the root cause of why they are acting this way.
But, the Brain Training for Dogs program aims to do this and shows you preventative techniques.
It can help you understand why your dog is demonstrating certain behaviors and how you can combat these problems effectively.
There are always reasons why dogs display negative behaviors and this training allows you to identify them and work through them.
Instead of learning techniques to deal with the behavior when it arises, this training program will start at the root cause so that the behavior does not occur at all.
#7. Create Obedience
When your dog is obedient, they will listen to you, respond to your commands and live a happy life.
With the Brain Training for Dogs program, you can work on making your dog obedient and strengthen the bond between you and your companion.
Through the games, activities and general tips, you can practice commands with your furry friend and this means that they are more likely to have control when you are out on a walk or socializing with other dogs.
Obedience can combat bad behavior and really can make a difference when you are faced with bad situations.
#8. Training Is Fun
One of the best aspects of this training program is that it is fun for you and your dog.
There are a lot of dog training programs out there that are tedious and repetitive.
They miss out the main factor of any training sessions with your dog and that is fun.
In fact, this is the main reason why other training programs are not successful.
The difference between Brain Training for Dogs is that it is a training program specially designed to be exciting, fresh and new.
Owners will enjoy spending time with their pup and teaching them new commands and fun games, while your dog will love the exciting new things that they are learning.
After all, if your dog enjoys the training and finds it fun, they will be eager to learn more and really absorb the new commands and training.
Brain Training for Dogs – The Airplane Game Exam Demonstration
#9. Created By A Certified Professional Trainer
This dog training program was designed and created by a professional trainer.
Adrienne Farricelli not only has a background working with dogs, but she is also a professional that has achieved the Certification Council for Professional Dog Trainers (CPDT-KA) title.
Using her 10 years of experience and professional training, combined with science, Adrienne created Brain Training for Dogs to promote positive reinforcement and reward-based techniques.
This means that this program is all about what has worked in real life and you can feel confident that the techniques you are learning to use can actually work.
#10. Active Support System
The great thing about Brain Training for Dogs is that while you are working through the training program with your furry friend, there is still an active support system that can help you.
As a member, you will be able to submit any questions that you have about the training program and ask a professional.
This makes sure that you are not confused about any aspects of the training and can have something clarified if you do not understand it.
There is always someone that will respond and help you if you get confused.
There is also a private forum where members can engage with each other and talk about their dogs and progress.
This is a great way to connect with people that are dealing with similar behavioral problems and enjoy some support with fellow dog owners.
The Disadvantages Of Brain Training For Dogs
Of course, like any dog training program that is out there, there is going to be some disadvantages that should be considered before you invest your money, time and effort into it.
Taking a look at the whole picture is important so that you can decide whether you want to try Brain Training for Dogs.
Let's have a look at the disadvantages so you are not in for any surprises.
#1. It Is Not An Overnight Cure
When your dog has behavioral problems, you want something to stop it and fast.
Well, Brain Training for Dogs is not an overnight cure and it will take some time to stomp out bad behavior.
This means that you have to devote time to see if the program will work for you and if you have a busy schedule, this may not be the training that you were looking for.
You will have to show perseverance and dedication to the advice that is provided.
#2. There Is No Professional Trainer
While Brain Training for Dogs was created by a professional trainer, it is up to you to work on the program with your dog.
A lot of people lack the confidence to approach their dog's bad behavior on their own, which may mean that this program is not going to work for you.
If you are looking for professional help and for them to take the lead in combating your dog's troublesome behavior, it might be better to seek out a trainer you can work with in person.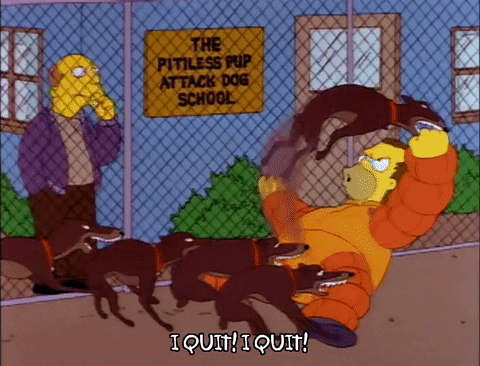 #3. Not All Dogs Will Respond
Like any dog training program, there is no guarantee that your furry friend will enjoy it and engage with the games and commands it teaches you.
All dogs are different and the root of their behavior will also be different.
If you are not sure what is causing your dog to be anxious, aggressive or hyperactive, it can be difficult to find the right training video or article to consult for help.
Our Final Thoughts
We hope our Brain Training for Dogs Review article has managed to help you make your decision.
It is safe to say that it is a fresh and innovative training program that could work wonders for your furry friend.
If your dog is demonstrating negative behaviors that you wish to stop, this could be the training program that you need to tackle the root cause of the behavior.
There is a wealth of information available at your fingertips, plus a fantastic support network online.
It is all about fun, obedience, and positive reinforcement techniques.
What's more, Brain Training for Dogs is risk-free, with a money back guarantee.
Of course, it is important to remember that this training program will take some time and commitment and it is you that is in charge.